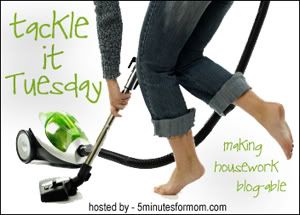 Half of our Tackle was completed on Sunday:
We sorted through all of our empty canning jars and separated them by quart, pint and jelly. The ones that are still full of food were straightened up and grouped. Tonight we are going to start putting lids and rings on EVERY jar we have (Lucky Walmart!). Thanks to a lady at my husbands work, we added approximately 70 jars to our collection (on top of the hundreds of others).
I am so ready to begin canning. This year: Pickles, jellies, jams, preserves, peas, corn and salsa. Green beans are a NO NO this year. We still have 118 quarts leftover from last summer's 200 quart canning.
I also bought this incredible juicer last year so I am hoping my grapes, peaches and apples produce so I can make juices to can. MMM MMM MMM.